Continuing our most gleeful happy making on Thursdays, the crazy trio 'o
memphis86,
regala_electra, and I,
ignited, would like to invite you all to participate in a contest near and dear to my heart. Almost as much as crack fic, that's how dear, you guys.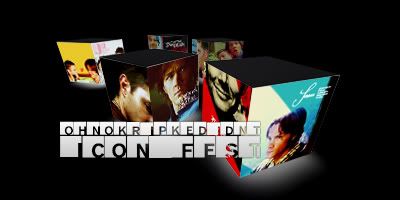 Welcome to the
ohnokripkedidnt icon fest! And now, after a time of meathooks and sadfaces, let us celebrate all that is good and shiny in SPN-land by... making icons! Those little 100 x 100 boxes 'o art can represent our likes, dislikes, feelings, craziness, whatever -- and so, in the wake of aforementioned hooks of Kripke evil won't someone think of the kittens? meat, we will have icon prompts!

How to play
Like the fic fest, comment with an icon prompt: be it an idea, a character, pairing(s), prompt word(s), phrase(s), pic(s) or screencap(s) that you'd like to see iconned. Then people can respond to that comment with an icon featuring that prompt!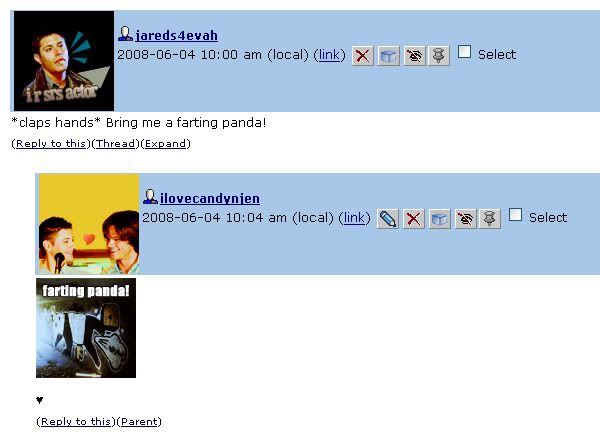 True story. *nods*

Or for instance, you could post saying: Dean, pie -- and someone can make an icon of Dean and piiie. *dreamy sigh* AHEM. Or, another example: Sam/Jo -- and boom, Sam/Jo icons!

Or for the picture side of things, you can post a Katie Cassidy pic and get an icon out of that! Several icons! A Jensen picture and someone can regale us with a sparkly example of cowboys! Shh. I have needs.

Get it? Good! \o/

1. You are welcome to make as many prompts as you like, but please post them in separate comments to this post. If you have several different requests do not post them all in one comment, split it out. It makes it easier for us to track. :) Anyone is welcome to take up the prompt by commenting to your prompt and anyone can comment. Multiple icon comments are welcome!

Meaning, if you post the name 'Jensen Ackles', you'll get... many icons of Jensen Ackles. Yep. If you post one particular pic or cap of a person, you can get more than one icon as more than one person can submit their icon responses. You can submit one icon or several icons for each comment you respond to; it's up to you! :D

2. No personalized icons! All icons are shareable, so please do not request something with your name or your username in it. :)

3. Make sure you credit for who made the icons. Don't know how to credit? Take a look at this!





Just change the 'username' bit to whoever made the icon!



We will track the prompts/responses as they come in, and post the links to them here!

As usual, because we are about ze freedom here, this challenge is open to slash, RPS, gen, and het! Go wild!

.

Some handy links beneath the cut, including icon maker generators and screencaps:

Pictures

Supernatural screencaps

.
bunny_icons
.
inadream_caps
.
j2_daily
.
spn_caps
.
treasurebox
. Caps by
bluebear_74
. Caps by
marishna
. Caps by
oxoniensis

Supernatural promo photos
. Supernatural Media
. Supernatural.tv
. Winchester Fan

Actors
. J-Padalecki.org
. Jared Fan
. Jensen Ackles Addiction
. Jensen Ackles Fans
. JRAUnlimited
. Katie Cassidy Fan

Icon Generators

For those without graphics programs, here are some handy links:









---



Icon Fest Master List
( Links in brackets -- [ ] -- indicate the prompt is a picture )

Characters
ignited: Dean, pie
ignited: Ruby, gold
deirdre_c: Dean pic
memphis86: spirit animals
geeklite: Bobby
memphis86: Sam Winchester and Morrissey.
somedayleaving: Dean with lyrics
sgriobadh An animated icon of Dean's happydance in The Magnificent Seven. You know, the bit after the thumbs up but before he takes off the chick's shirt.
sgriobadh: SPN women
impalalove: Dean's 'facepalm' on the carpet at the beginning of Jus in Bello
chase_acow: Dean/car
memphis86: Dean/Food
memphis86: Rufus
momotastic: Confused!Dean
vorrothiel: Sam pic
vorrothiel: [Sam]
vorrothiel: [Sam]
willow_m_w: Sammy rocking out to Wanted Dead Or Alive
wendy: evil!Sam, Boy King, leading the legions of evil or something like that (serious or funny)
chase_acow: Dean, Chastity: the most unnatural of the sexual perversions.
chase_acow: Cranky boy (your choice), "One seventh of your life is spent on Monday."
selinamoonfire: Happy!Dean
certainthings: [Sam]
broken_lullaby: Ruby putting ketchup on her fries
fueschgast: Sam making the bitchface
lovely_lady_j: John and Truckzilla
vorrothiel: Ruby
sadcypress: Sam with the headphones on from 'Hollywood Babylon.'
enablelove: "No Rest for the Wicked", Dean's excited smug laugh of glee when the sprinklers of holy water go off.
enablelove: [Sam]

Pairings / Groups
vorrothiel: Sam/Jess, pretty cropping/sharp colors
ignited: [Sam & Dean]
deirdre_c: [Sam & Dean]
mileya: Dean Winchester and Veronica Mars
sazzlette: [Sam & Dean]
vorrothiel: Sam/Madison
hopelessfangirl: [Katie & Lauren]
momotastic: Wincest with animation
cloex_brosluvr: [Sam & Dean]
wendy: Sam and Dean...picture of a brother moment, bonus points if it's outdoors. (no Impala, no text, please!)
wendy: Sam and Dean with horns and a halo
isis2015: Dean/Layla
memphis86: Dean/Henriksen
sirryluv: Younger!Sam/Dean
sirryluv: Sam/Dean, "I love you more than everything in the sky"
broken_lullaby: Harry and Ed, sweet Lord of the Rings!
hopelessfangirl: Dean/Nancy
meredevachon Sam/Sarah
isis2015: [Jess, Mary, & Carmen]
isis2015: [Mary & Sam]
faithfulpuppy85: Sam or Dean with the quote "too cute to die." or "too pretty to die."
bittersplendor: [Jeffrey, Jensen, & Jared]

Actors
nomelon: Grumpy!Jensen - something candid, not posed. Tired and grouchy but still pretty sorta kinda thing. :D
sadcypress: Jared OR Jensen being a Pretty Princess.
sazzlette: [Jared]
momotastic: [Jensen]
karmicunderpath: [Jared]
karmicunderpath: [Jared]
wendy: Jensen, High and Mighty
wendy: Jensen, Check that off the list
loony_moony: Dean, "I nothing you"
wendy: Jared, I DON'T UNDERSTAND.
wendy: Jared in a hideous shirt that says fashion consultant (or stylist, or something like that)
wendy: Jared, I'm a pretty, pretty princess!
wendy: Jensen looking appalled and annoyed
wendy: Jared or Jensen making rocker horns or a peace symbol or something with their hands
wendy: Jared, vacuuming
wendy: Jensen enjoys judging you (or Jensen, judging, or Jensen being judgmental or anything along these lines.)
wendy: J2, boxers or briefs?
vorrothiel: [Jared]
wendy: Jared and/or Jensen and Starbucks
vorrothiel: [Jensen]
vorrothiel: Katie Cassidy at the London con
vorrothiel: [Jensen]
enablelove: [Jensen]
enablelove: [Jensen]
hopelessfangirl: [Jared]

Phrases & General Ideas
mindykim: Boy!touching
memphis86: "I Love My Dead Gay Intern!"
angstpuppy: Tinhat
wendy: "I don't want your pity, I want your absence."
memphis86: SPRUCE!!
wendy: SHENANIGANS.
wendy: DRINK MORE ALCOHOL.
bardicvoice: blushing or self-deprecation
wendy: MPREG
memphis86: Cracky fun icons from The SPN Charlie the Unicorn Sequel

Objects
ciaan: Metallicar (real license plate) that says 'Save a horse, ride an Impala.'
lovely_lady_j: High contrast or b/w of reflection of ANYONE off the roof/hood of the Impala.
gembat: Unicorns
florentinefed: Strawberries

.

If you'd like to promote the contest, feel free to do so with this handy dandy text box 'o code!



Special thanks to painting_walls for suggesting the idea! ♥